For all questions relating to the press, please contact our press officer, Hélène Fincker – Helene@Fincker.com or send an email to : presse@monuments-nationaux.fr
The Cabanon, the Etoile de Mer and the Holiday Cabins have been open to visitors for several years.
Until 2014 Villa E-1027, which has been undergoing extensive restoration since 2007, was open to the public only on highly exceptional occasions. Following completion of the first tranche of works and to coincide with the events commemorating the 50th anniversary of the death of Le Corbusier, it was at last opened to the public for a preview from 1 May 2015, thanks chiefly to the dynamism of all those involved in its restoration.
An event of great interest for all architecture and design enthusiasts and professionals, the opening was followed up by an official inauguration ceremony on 26 June 2015.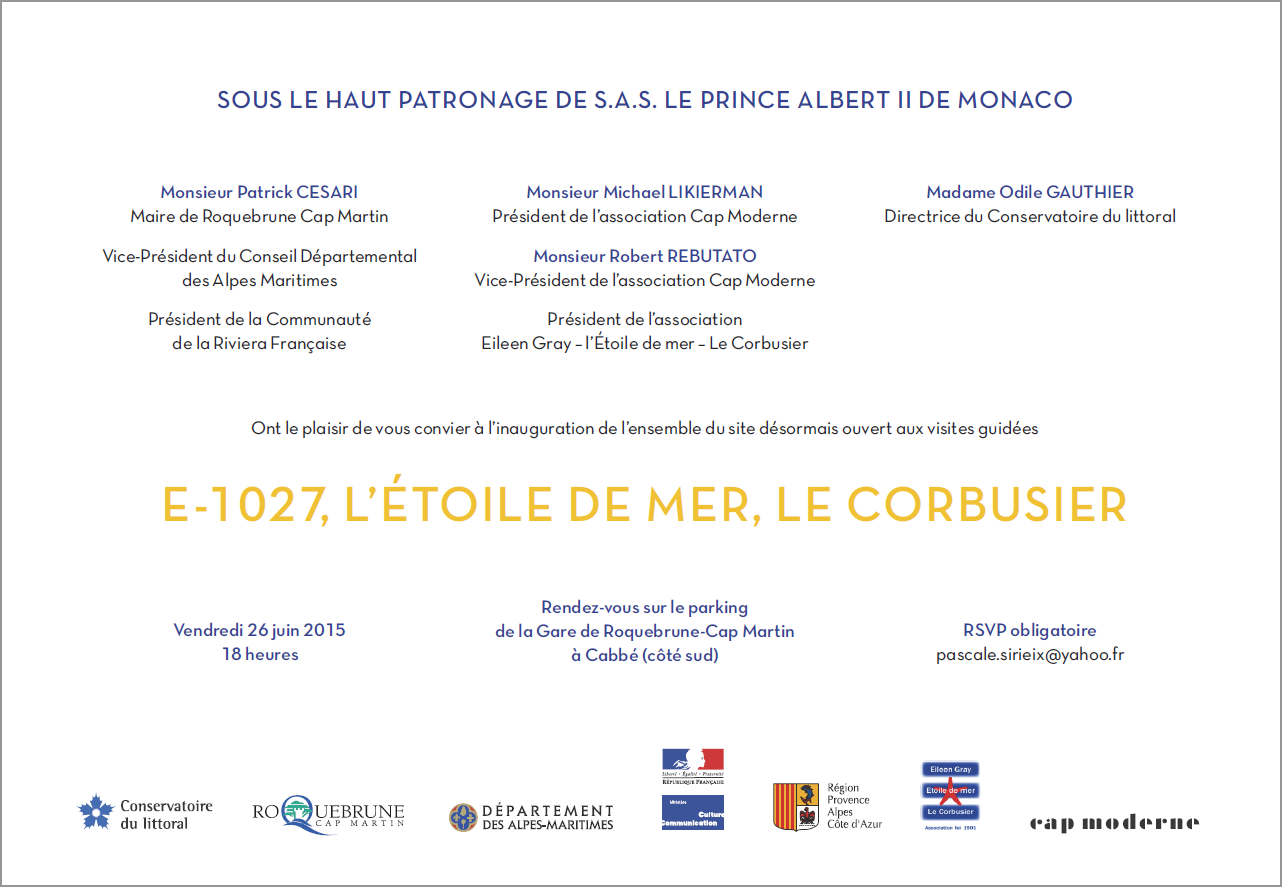 That date marked the very first opening of the whole site, comprising Villa E-1027, the Cabanon, the Etoile de Mer and the Holiday Cabins, as part of the Cap Moderne Association's management mission.
The inaugural tour, placed under the high patronage of His Serene Highness Prince Albert II of Monaco, was led by Mr Patrick Césari, Mayor of Roquebrune Cap Martin and Vice-President of the Council of the Alpes Maritimes department, and by Mrs Odile Gauthier, Director of the Conservatoire du littoral.
On the same occasion the new reception/ticket office/bookshop, installed in a railway carriage specially fitted out for the purpose and bearing Cap Moderne's colours, was also officially opened.
The whole site is thus now open to visitors.
However, given the extreme fragility of the buildings, only guided tours of small groups are permitted. Such tours must be booked in advance by sending an email to: contact@capmoderne.com or by calling +33 (0) 4 92 15 01 41
THE CAP MODERNE ASSOCIATION'S
MAJOR PROJECTS
As well as fulfilling its responsibility to protect the site and preserve it for future generations, the Cap Moderne Association is carrying out three major projects:
Set aside a special area for introducing the public to the site and set up an exhibition centre in the disaffected railway shed made available by the RFF and the SNCF at Roquebrune Cap Martin railway station, thus creating a new concept of "cultural station" as a point of entry to the site.

Actively seek sponsorship to enable us to complete our mission (www.capmoderne.com) and supplement the aid granted by the Ministry of Culture and the Regional Conservation Agency for Historic Monuments and the support of the Le Corbusier Foundation.
See the page "Making a donation"
Documents available
to the press
Press photos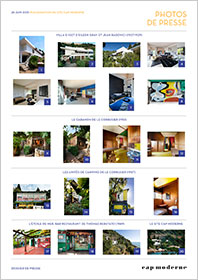 A set of photos intended for the press is available at this address.
Press releases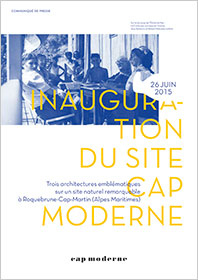 Download the press release in French
Download the press release in English
Press release for the inauguration of 26 June 2015